June 18th 2022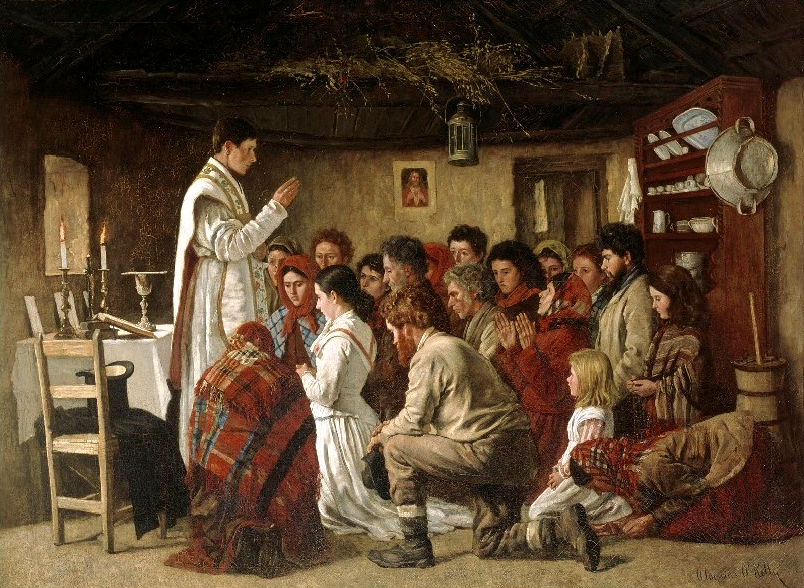 "Mass in a  Connemara Cabin",  Aloysius O'Kelly,  1883, National Gallery Dublin.
A young priest gives the final blessing at a Station Mass. His vestments are white and there is a picture of the Sacred Heart in the background, which suggests that the Mass might be that of the Feast.  In the foreground a farm labourer kneels as do the others for the final blessing and dismissal.  Unlike the others he appears to be dressed for work.  When Aloysius O'Kelly painted this  picture, he was already an established artist. He had trained in Paris, and  this painting was exhibited at the Salon of 1884.  It was the first painting by an Irish artist to be so honoured.   At that time, both religious and political feelings were running high in the West of Ireland.  The apparitions at Knock took place in August 1879.  Near-famine conditions prevailed across the country and, in the West of Ireland especially,  landlords continued to demand excessive rents from their tenants.  The Land League was founded in Castlebar in October 1879 and in the long run would achieve a radical change in the system of land ownership.  A key strategy was to hold mass meetings meetings of tenant farmers on Sundays, when people did not work and had gathered for Mass, forging links between religious practice and the "Land War."  O'Kelly's painting is realistic.  Details,  such as the young curate's top hat and coat, or the cloth of the kneeling woman's shawl, ring true. The light from the left suggests the open door through which the congregation would soon leave, so that what has happened in the cabin and what will happen outside are both evoked. Both an artist and a Fenian, O'Kelly's painting is about the harsh reality of tenant farmers' lives in the West of Ireland at the time and their faith, a link evoked powerfully by the man who kneels in the front  in his working clothes
This painting has a special significance for Edinburgh as it was discovered in St Patrick's in the Cowgate.   Thought to be lost, it was identified in 2002 by the parish priest at St Patrick's.  In the 1890's the Cowgate was home to a great many poor Irish migrants.  This painting is on permeant loan to the National Gallery of Ireland.