May 16th 2020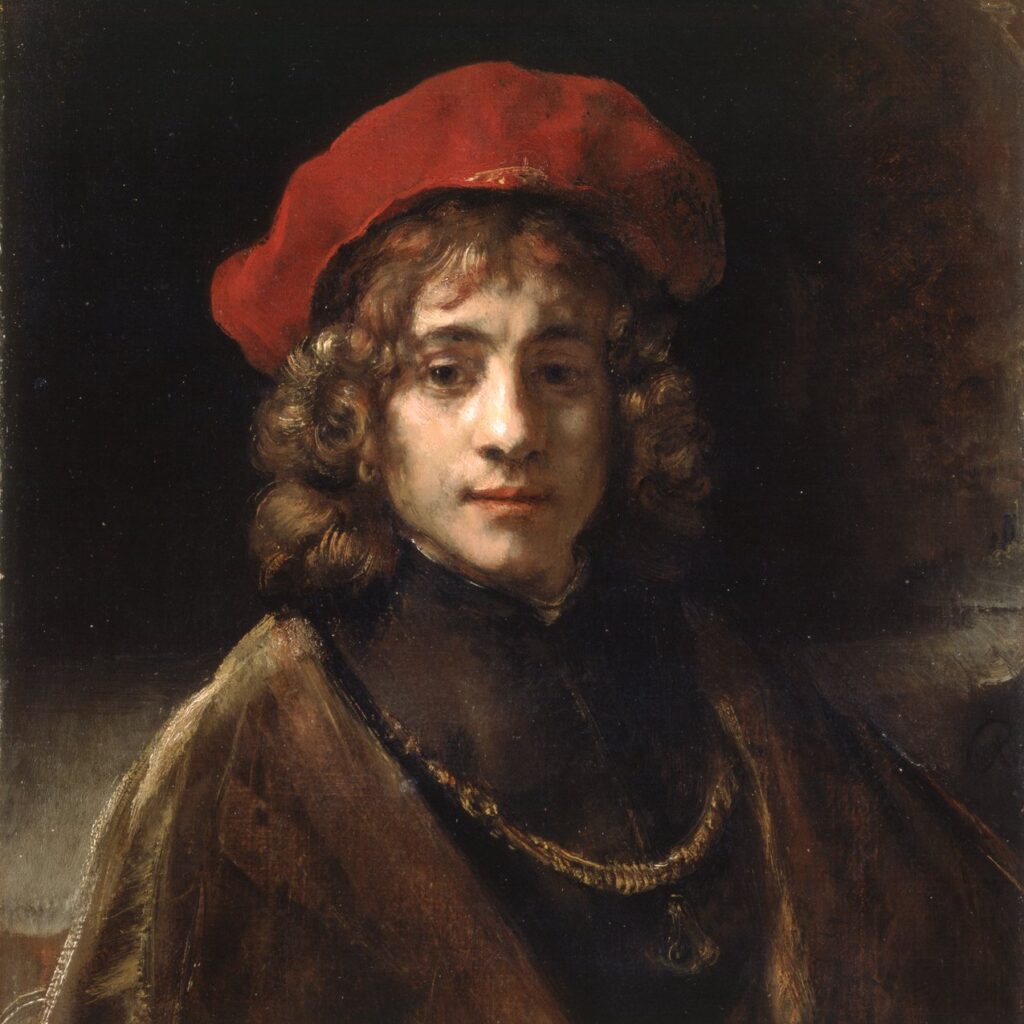 "Titus, the artist's son" , Rembrandt, c. 1657, Wallace Collection, London. You can view this paining in high resolution on the Wallace Collection website, www.wallacecollection.org
When asked recently what my favourite portrait was, I could answer without hesitation. It this painting, which Rembrandt made of his son, Titus, as a teenager. It is generally dated to about 1657, which would make Titus 16 years old. However, the exact date of painting is uncertain. What matters is that Titus was no longer a child, but also was not yet an adult, when his father painted him. Since, the theme of the relationship between the Father and the Son appears again and again in the gospel passages read at Mass over the past few weeks, and today's gospel reading also begins with it, I thought it might be interesting to look at this painting. To my mind this picture is about Rembrandt's relationship to his son.
Rembrandt's career took off in in the 1630's. However, he spent lavishly. He bought an expensive house and collected famous works of art for which he sometimes paid well over the odds. Rembrandt had married Saskia van Uylenburgh in 1634. He was marrying above his station and the couple moved into a fashionable address in Amsterdam. Titus was born in 1641. He was the only one of their four children to survive. But Saskia died the following year. Saskia had money which went to Titus. Rembrandt had access to his son's inheritance so long as he did not marry again. In 1650, Hendrickje Stoffels became his housekeeper and mistress, but they did not marry. There is an inventory of his possessions made in 1656, because in that year he was declared bankrupt. In 1655, when Titus turned 14, he was legally competent to make a will and did so in favour of his father. This was a way of protecting what remained of the boy's inheritance from Rembrandt's creditors, should the boy die before his father. As a brankrupt, Rembrandt was no longer competent to manage his business affairs. It was left to Hendrickje and Titus to manage the sale of his paintings and the production of his etchings.
"Self-Portrait", Rembrandt, c.1630, Walker Gallery Liverpool.
In this portrait, the boy's clothes are too big for him. This is a boy in a man's clothes. For me me this is the first clue to what the portrait is about. The gold chain and the heavy coat was the dress of a prosperous merchant. Indeed, he is dressed rather like Rembrandt is in his self-portrait now in Liverpool's Walker Gallery. This was painted when Rembrandt's career was taking off in 1630. Rembrandt continued to paint self-portraits throughout his career. There are about 75. He painted Titus several times, but none of these works have the seering poignancy of this work.
Light falls from the left onto the bright red beret with its gold trim. It catches the back of his shoulder, so we notice the rather grand coat and the gold chain. These clothes are not let fade into the shadows. Why has he dressed his son up in such expensive clothes at the very time when they are almost penniless? Does it hint at the wealth and status of his mother's family? Or is it a kind of bravado? Is it an expression of hope for the boy's future. Will he grow into these clothes? Or is irony? Each viewer must decide. The light catches the curls of hair which frame his young face. The hair is so beautifully painted that you could almost touch it. Whenever I have stood and looked into those big brown eyes, I have been transfixed. For me, there is within them a sadness for what has been lost and yet there is also a sense that Titus isn't fully aware of the tragedy that has befallen him. This knowledge awaits him. He is a boy whose circumstances forced him to act as an adult. However, from the way Rembrandt paints his son, I can see that he knew well what he has done and what was lost. Notice the skin below his left eye It is as if it were still wet from tears recently shed. The curve of the eye brow and the other eye in shadow convey to me an inescapable sadness which has become normal for Titus. At this stage, it is very likely that Rembrandt himself would have had a huge sense of his own failure, not just financially, but as a father. And yet what is so obvious to me is the love with which he paints his son. There is the intimacy of the parent and the child. Notice that there the hint of facial hair above his lips and on his cheeks. Taking all of the above into account, what I see is a father asking forgiveness both of his son and of himself.
Of course, different people interpret these features in different ways. This is the genius of Rembrandt. We see a real person and perhaps in that person we may see ourselves too. There is evidence that Titus trained as an artist under his father. Some paintings by him are listed in the 1656 inventory. He married in 1668, but caught the plague and died that same year, before their daughter was born. Rembrandt, his daughter- in-law and the grandchild also died soon afterwards. They were all buried in rented graves.
At the beginning of the twentieth century the Wallace Collection had twelve paintings by Rembrandt. It now has only this one. They others weren't stolen or sold. It is simply that they are now judged as not by Rembrandt's own hand. Many artists painted in the style of Rembrandt and he himself often signed the better works of his many students. However, nobody has ever doubted the authenticity of this portrait. Some would even say it is his most beautiful work. To my mind he paints not just his son, but also their relationship in a way which is startlingly honest. I connect it with John's gospel, for in the son you see the father and in the seeing is manifest the bond of love between them. What is so moving for me is that this trinity of love is dressed for us in clothes of human frailty, failure and the contingencies of a human life.